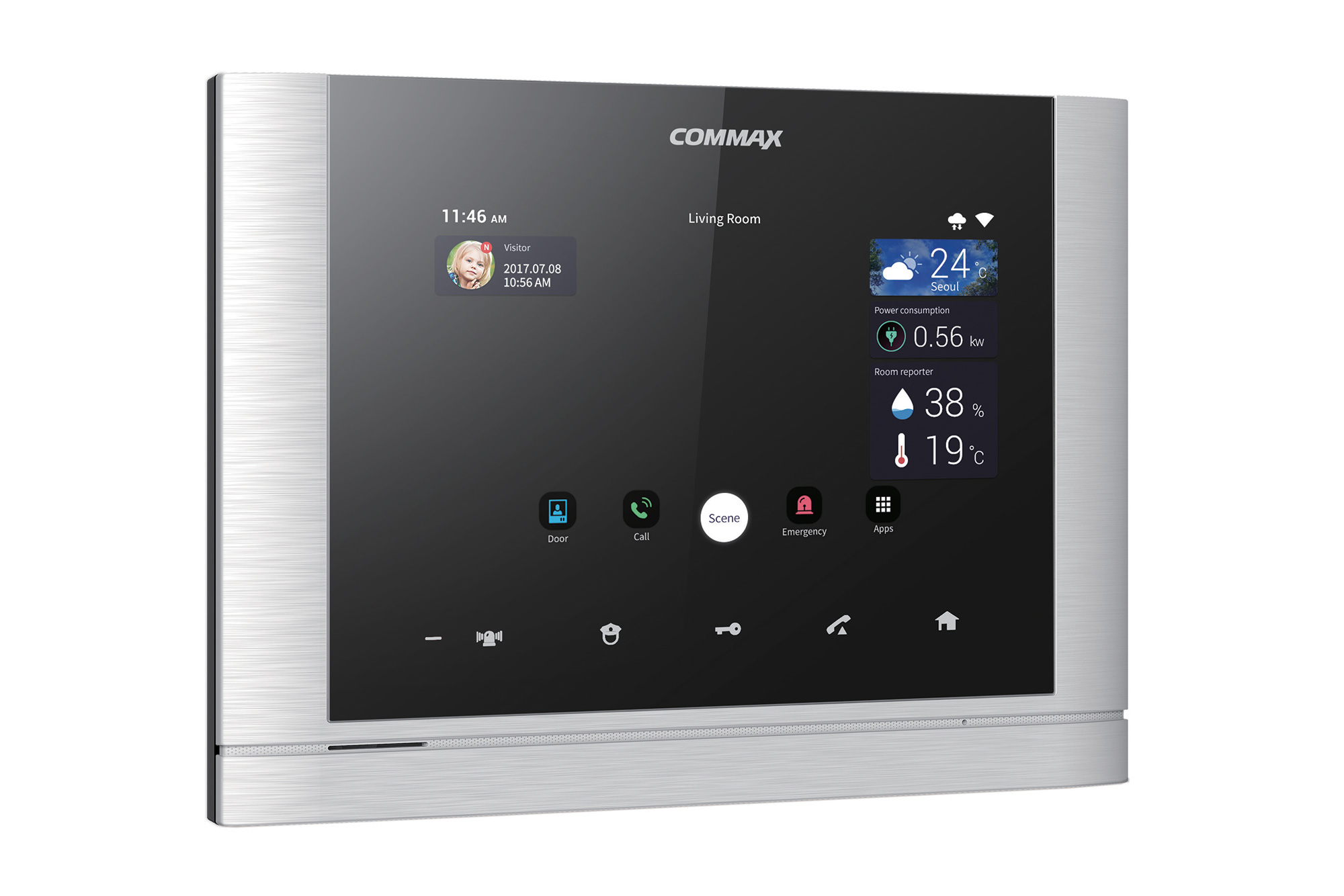 SMART GATE | MODUM MONITOR
CMV-70MX
7 inch Premium Full-Touch MODUM MONITOR improves house's interior class. It has enhanced security function of CCTV monitoring and security sensor and can be installed to all door entry environments from a single house to an apartment complex. Also it is connectable with IoT devices and visitor indentification via smart phone.
COLOR(CASE/WINDOW)

L. SILVER/BLUE
D. SILVER/BLUE
WHITE/WHITE
WHITE/BLACK SMOG
L. SILVER/BLACK SMOG
D. SILVER/BLACK SMOG
CCTV MONITORING

CCTV monitoring On monitor & smart phone up to 8 CCTV camera.

GUARD/PORTER CALL

Calling a guard/porter with one button and Faster communication when assistance needed.

ALARM FOR SECURITY

Safety alarm function from interlocked door sensor.

IoT DEVICE CONNECTION

connectable with IoT device such as security kit, lighting kit, comfort kit.
FUNCTION
7 inch Multi touch LED Display
Connectable with Smart phone and security IoT sensor
CCTV Monitoring
Guard Call & Talk
Porter Call & Tal
Compatible with Single House and Apartment Complex
SPECIFICATION
Power source

AC 100~240V, 50/60Hz

Display

7 inch LED Display / Multi Touch

Mount type

Wall-mounted type

Wiring & Distance

Door Camera : UTP/(28m)
Floor Distributor : UTP/(28m) / 2 wires

IoT Sensor

Zigbee protocol

Protocol

Wi-Fi 2.4Ghz, IEEE 802.15.4,
Zigbee HA 1.2(Compatible)

Dimension(mm)

244(W)x180(H)x18(D)