FEATURES
TEMPERED GLASS APPLICATION

Tempered glass with AF(Anti-Fingerprinting)is applied to upgrade your home with a luxurious interior.

EMS (ENERGY MANAGEMENT SYSTEM)

It is possible to monitor the energy status on a real-time basis.

INTEGRATING SWITCH

Lighting and boiler switches are integrated into wallpad, providing unity of interior.

ENHANCING CONVENIENT FUNCTIONS

Searching for various contents from public facilities and connect.

IHD (IN HOME DISPLAY)

Users are able to monitor the information of home network devices via IHD.

ANDROID OS

The world's first Android OS based device connects a user to a variety of smart contents.

SMART BLUE

Creating luxurious atmosphere with COMMAX smart blue color.
FUNCTION
ㆍECO: EMS(Energy Management System)/standby power breaker/light-out/solar-power link/IHD/electronic meters link
ㆍHealthcare: blood pressure management/blood sugar management/urine assay/body fat management and more.
ㆍSecurity: burglar alarm/fire alarm/monitoring CCTV in public area/integrated door lock
ㆍHome devices control: smart switch/lights/boiler/air conditioner/gas valve and set up scene
ㆍConvenience function: single-pass system/visitor identification/voice mail/alarm/scheduling/elevator call/ apartment complex information search/video and voice call between households/integrated unmanned delivery/electronic photo album/visitor image cuts saving and more
ㆍRemote control: via Web Site(www.ruvie.co.kr)/via smart phone and via ARS control
SPECIFICATION
Power source

DC14V/2A

LCD size

10.1 inch wide color LCD

Mount type

Built-in(Flush-mounted type)

Operating temp.

0℃~40℃

Wiring

LAN(CAT.5e)

Data transmission

TCP/IP, RS 485

OS

Android OS

Memory

DDR Memory 256MB

Storage

512MB High Speed Nand Flash

Touch panel

Resistance/Capacitance Touch Panel

Resolution

800×480 or 1024×600 Digital LCD

LAN

Ethernet 100

Wireless support

RS 485 or IP Sub Phone Interface

Slave phone

Magnetic sensor interface/motion

Sensor

Detection/emergency/gas, etc.

Image sensor

1.5M Pixel built-in C-MOS camera (Optional)

Dimension(mm)

320(W)×350(H)×13(57)(D)
INSTALLATION
CAUTIONS FOR INSTALLATION
An effective range from L2 S/W to Wall Pad is 100m.
Set up an apartment building number not to overlap with the household's number.
Refer to the provided blueprint when you drill by yourself.
Be aware of damaging the Line Board (excessive power leads to malfunctions).
A separate power supply required if more than two magnetic and moving sensors applied.
Appropriate height is 1,450mm from the center of LCD monitor to the ground.
Use dedicated lines.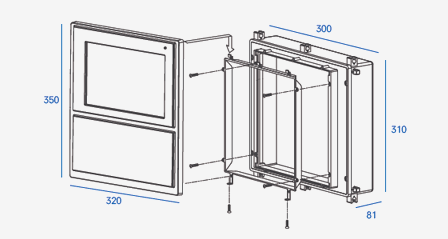 WIRING DIAGRAM

WIRING
CAUTIONS FOR INSTALLATION
Please be cautions with polarity.
Power on after wiring.
Use dedicated lines.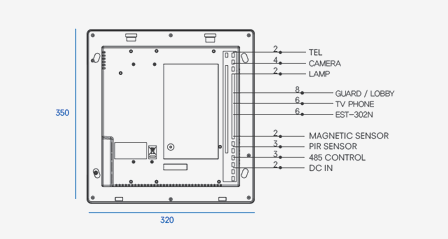 ACCESSORY
ACCESSORY
CONTENTS
QUANTITY(EA)
Connector
CONN. DC2P×250mm
CONN. RJ-45
1
5
Product fixing screw
Screw PHM 3×12 NI
1
Wall bracket mounting screw
Screw FHM 4×20 NI
4
Adapter
DC 14V 2.5A
1
Wall bracket
1