FEATURES
THE WORLD'S FIRST TEMPERED GLASS

Vivid resolution display with tempered glass application and clear and waterproof surface with AF(Anti-fingerprinting)application.

7 INCH LCD

7 inch LCD panel with user-friendly GUI.

STAINLESS MATERIAL

Durable, clear, and clean stainless material harmonized with indigo blue color.

PROXIMITY SENSOR

Proximity sensors applied to control the LCD panel lighting to reduce power consumption.

CAPACITIVE TOUCH-TYPE

Blue LED applied touch buttons.

VARIOUS ACCESS CONTROL METHODS

Various access control methods, such as password verification, RFID card, and integrated identification control with security guard station, are provided.

SMART BLUE

A distinguished blue color, in COMMAX's definition, "Smart blue", applied for luxurious exterior.
FUNCTION
ㆍOverall tempered glass/7 inch LCD
ㆍPublic information display/weather & time display/ voice announcement
ㆍAuto panel-lighting control by proximity sensor/ multiple access control method(password/RFID card)
ㆍEmbedded RFID
ㆍSecurity office call/household unit call
SPECIFICATION
Power source

DC 14V/2.1A

LCD size

7 inch wide color LCD

Mount type

Built-in(Flush-mounted type)
Surface-mounted type

Operating temp.

-10℃~40℃

Wiring

LAN(CAT.5e)

Data transmission

TCP/IP, RS 485

OS

Android OS

Memory

DDR Memory 256MB

Storage

512MB High Speed Nand Flash

Touch key

Resistance/Capacitance Touch key

LAN

Ethernet 100

Wireless support

IR Receive/Zigbee Optional

Dimension(mm)

244(W)×270(H)×17(43)(D)

Installation hole size(mm)

200(W)×219(H)

Fill up box size(mm)

210(W)×240(H)×81(D)
INSTALLATION
CAUTIONS FOR INSTALLATION
An effective range from L2 S/W to the Lobby phone is 100m.
Appropriate height is 1,450mm from camera lens to the ground.
Power for an Automatic door should not be supplied from the Lobby phone adapter. It may cause malfunction and generate noise on the display.
Use dedicated lines.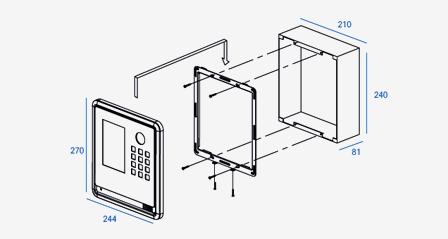 WIRING DIAGRAM

WIRING
CAUTIONS FOR INSTALLATION
If guard station phone is to be used with DRC-700S, CDS-70M shall be used(CDS-481L is not compatible with DRC-700S).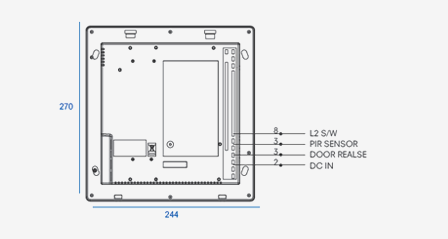 ACCESSORY
ACCESSORY
CONTENTS
QUANTITY(EA)
Connector
CONN. 3P(3.96)×250mm
CONN. 3P×100mm
CONN. 2P×100mm
1
1
1
Product fixing screw
Screw PHM 3×30 ZnY
2
Wall bracket mounting screw
Screw FHM 4×50 ZnY
4
Stiker
1