FEATURES
TEMPERED GLASS APPLICATION

Tempered glass with AF(Anti-Fingerprinting)is applied to upgrade your home with a luxurious interior.

EDITING TOOL BASED ON ANDROID OS

The editing tool provides a simple GUI and a drag-and -drop function for an easy configuration.

SMART TOUCH

Full capacitive touch method applied with a design of convenience.

INTELLIGENT CONTROL SYSTEM

An integrated control of building complexes through the Intelligent Control System.

EMOTIONAL MOOD LIGHT

Apply four-sided mood light to enhance the ambient light.

SDK-BASED DEVELOPMENT ENVIRONMENT

KNX Android SDK'provided by COMMAX provides the same programming environmentas Android OS.

SMART BLUE

Create luxurious atmosphere with COMMAX smart blue color.
FUNCTION
· Smart control:
lighting control/blind/shutter control/HVAC
system/remote control/video/audio control/home appliances

·

Smart ECO

:

energy management/interlock with electric

meter(overall lights-out)

·

Smart security:

monitoring/individual room control/access

control system
SPECIFICATION
source

DC 14V/2A

LCD size

1020SK: 10.1 inch wide color LCD
700SK: 7 inch wide color LCD

Mount type

Flush-mounted type

Operating temp.

0℃~40℃

Wiring

LAN(CAT.5e)

Data transmission

TCP/IP, RS 485

OS

Android OS

Memory

DDR Memory 256MB

Storage

512MB High Speed Nand Flash

Touch panel

Resistance/Capacitance Touch Panel

Resolution

800×480 or 1024×600 Digital LCD

LAN

Ethernet 100M

Wireless support

IR Receive/Zigbee Optional

Sensor

Magnetic sensor interface/motion
detection/emergency/gas, etc

Image sensor

1.5M Pixel built-in C-MOS camera(Opt.)

Dimension(mm)

CKN-1020SK: 361(W)×238(H)×22(65)(D)
CKN-700SK: 257(W)×183(H)×22(65)(D)

Installation hole size

1020SK: 270(W)×164(H)
700SK: 209(W)×133(H)

Fill up box size(mm)

400(W)×236(H)×100(D)
INSTALLATION
CAUTIONS FOR INSTALLATION
An effective range from L2 S/W to Wall Pad is 100m.
Set up an apartment building number not to overlap with the household's number.
Refer to the provided blueprint when you drill by yourself.
Be aware of damaging the Line Board(excessive power leads to malfunctions).
A separate power supply required if more than two magnetic and moving sensors applied.
Appropriate height is 1,450mm from the center of LCD monitor to the ground.
Use dedicated lines.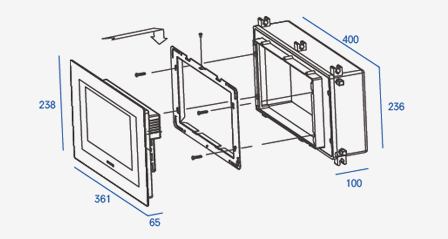 WIRING DIAGRAM

WIRING
CAUTIONS FOR INSTALLATION
Please be cautions with polarity.
Power on after.
Use dedicated lines.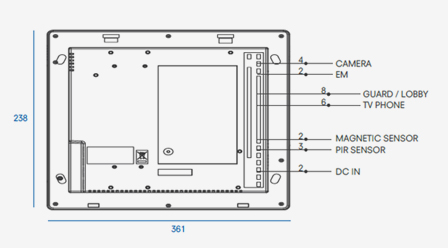 ACCESSORY
ACCESSORY
CONTENTS
QUANTITY(EA)
Connector
CONN. 2P×300mm
CONN. 3P(3.96)×250mm
CONN. 3P×300mm
CONN. 4P×300mm
CONN. 5P×300mm
CONN. 8P×300mm

2
1
1
1
2
1

Wall bracket mounting
FHM 4×50 ZnY
4
Product fixing screw
PHM 3×6 ZnY
1