Chairman Byun was honored with the Order of Industrial Service, Gold Tower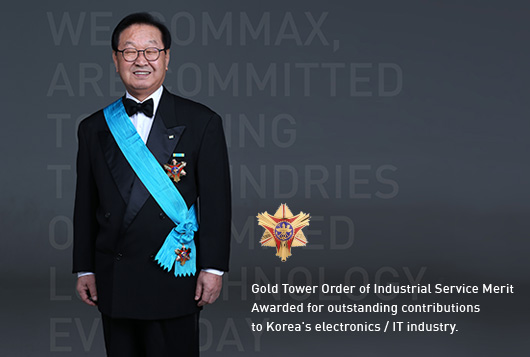 Chairman & CEO Byun Bong-duk is a living witness of development of Korean electronics industry, which has come a long way to make Korea one of the world's IT powerhouses. He established COMMAX in 1968 which will celebrate its 50th anniversary next year. For the past years, the company has focused on technology development, continuously put efforts to meet market and client's needs and added new values to their products and service for users.
With an expertise in Home network and Door Entry solution, COMMAX successfully transforms to a home IoT service provider for the benefit of users expanding their core technology related to Home communication. The company produced "interphones," door phones and industrial telecommunications systems for the first time in Korea and dominated the markets enough to have most high-end houses filled with COMMAX products in the 70s and 80s, now entering a new era of future technology such as A.I. and Voice Recognition. A look at the history and development of COMMAX will give you a glimpse into how the Korean electronics has been evolving at a fast pace and where it heads in near future.
COMMAX's CEO Byun always put an emphasis "trust" to gain market and customer. He also stresses a challenging spirit, creativity, and manpower development. With these efforts and dedication not only to the company growth but also to industry, Chairman Byun was honored with the Order of Industrial Service, Gold Tower in an awards ceremony among people who made meritorious contributions of the electronics and IT industries on the occasion of the 12th Electronics & IT Day.
Chairman and CEO Byun expressed his deepest gratitude to his partners and employees saying, "I wish to extend words of appreciation to partners and customers who trust and love COMMAX and our all staff." "Despite the hardships and difficulties COMMAX underwent during the long period notwithstanding, we proved ourselves with a challenging spirit and creativity." "We will strive to carry on as always as a reliable partner contributing to mutual growth, continuous innovation and co-existence."