COMMAX strengthens cooperation with global companies through CES
At CES 2018, the second day of the event in Las Vegas, Rodney Clark, Vice President of Microsoft, and Woo Seok Byun, Vice President of COMMAX, met & discussed how COMMAX's 'ANSWER' with Artificial Intelligence could benefit its users in US and future collaborations between Microsoft and COMMAX.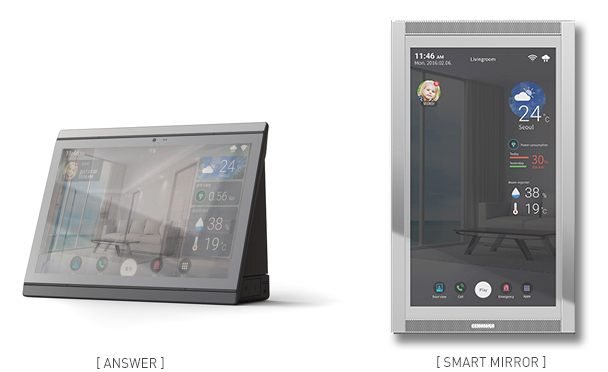 At the CES 2018, the world's largest Consumer Electronics Show, COMMAX implemented A.I. Home utilizing voice recognition speaker 'ANSWER' and 'Smart Mirror' and getting positive and sensational responses and feedback. ANSWER and Smart Mirror can deliver the advantage of IBM, Microsoft, Amazon, Google's AI platform to its users, which are leading the artificial intelligence function and technology development. IBM Watson, MS Cortana, Amazon Alexa, and Google Assistant are all available in one device - COMMAX 'ANSWER'. Users can enjoy various smart home services such as light and temperature control in the house only by voice commands and can be directly linked to the artificial intelligent services provided by each company.
The feature of COMMAX A.I. Home (Artificial Intelligent Home) is that when the user data is accumulated, the device recognizes the user, interprets the voice command, and provides a customized solution to the user through data analysis before the user orders it. COMMAX 's strength and technology, which global companies are paying attention, is the expandability to the existing smart home system that 'ANSWER' has.
Combination of the global AI platforms and COMMAX 's smart home solution enables all of the capabilities of the existing Smart Home: Check visitors, make video calls, open doors connected to door locks, and conveniently control various home IoT devices.
COMMAX is working closely with Qualcomm, the world's largest communication chip maker, to develop a smart home control service that is implemented through 'ANSWER' with Qualcomm board.
Since COMMAX is a representative company of Smart Home, we will implement A.I. Home which values customer's convenience, convenience and safety first through cooperation with global companies and will lead the market.