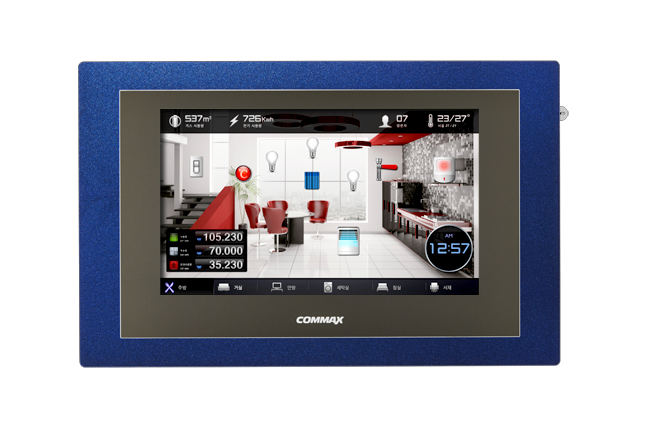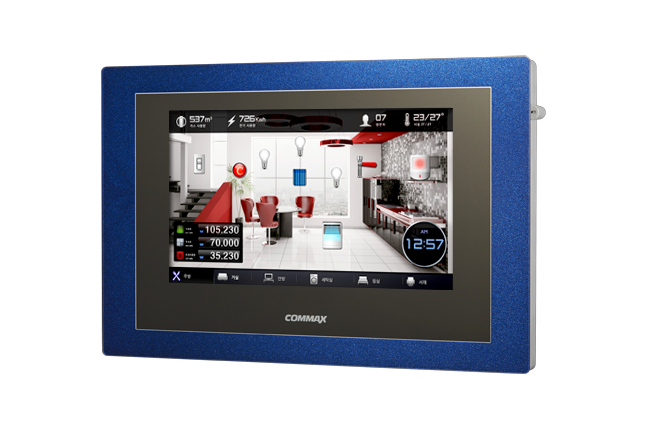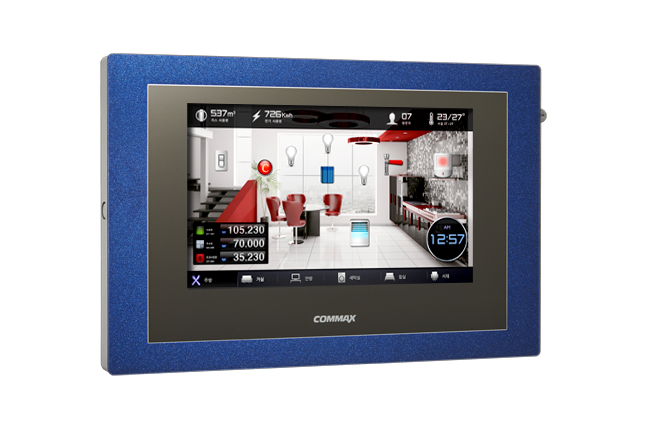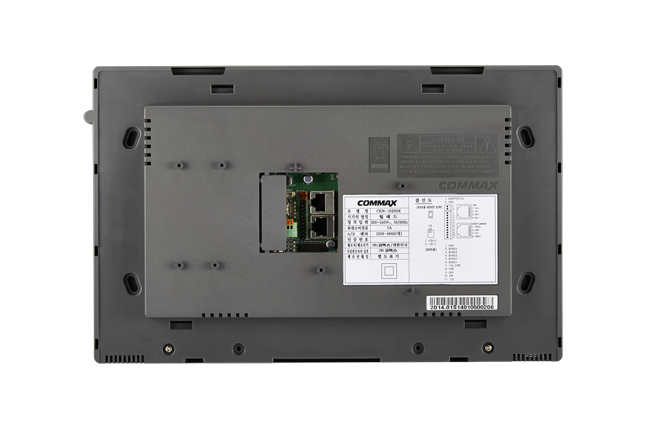 KNX
KNX FLATCKN-1020SK
COMMAX KNX PLANO, incrustado con KNX TP (Par Trenzado), ES EL PRIMER PANEL TÁCTIL EN EL MUNDO, CON BASE EN ANDROID OS.
Los usuarios pueden utilizar el software COMMAX de propietario para desarrollar aplicaciones. Sin embargo, teniendo una arquitectura abierta permite a los usuarios escribir sus propias aplicaciones.
Y EL PRIMER DISEÑO DEL MUNDO DE CRISTAL TEMPLADO
Se aplica para un look moderno.
Características
TEMPERED GLASS APPLICATION

Tempered glass with AF(Anti-Fingerprinting)is applied to upgrade your home with a luxurious interior.

EDITING TOOL BASED ON ANDROID OS

The editing tool provides a simple GUI and a drag-and -drop function for an easy configuration.

SMART TOUCH

Full capacitive touch method applied with a design of convenience.

INTELLIGENT CONTROL SYSTEM

An integrated control of building complexes through the Intelligent Control System.

EMOTIONAL MOOD LIGHT

Apply four-sided mood light to enhance the ambient light.

SDK-BASED DEVELOPMENT ENVIRONMENT

KNX Android SDK'provided by COMMAX provides the same programming environmentas Android OS.

SMART BLUE

Create luxurious atmosphere with COMMAX smart blue color.
Funciones
·

Control inteligente

:
control de la iluminación / ciego / control de persianas / HVAC
·
ECO inteligente
:
gestión de la energía / de enclavamiento eléctrico con metros (total de apagar las luces)
·
Seguridad inteligente
:
supervisión / control individual habitación / Acceso sistema de control
Dimensiones
Fuente de energia

DC 14V/2A

Tamaño LCD

1020SK: 10.1 pulgadas color amplio LCD
700SK: 7 Pulgadas color amplio LCD

Tipo de montaje

Tipo empotrado

Operacion temp.

0℃~40℃

Cableado

LAN(CAT.5e)

Transmission de datos

TCP/IP, RS 485

OS

Android OS

Memoria

DDR Memoria 256MB

Almacenamiento

512MB Alta velocidad Nand Flash

Panel tactil

Resistente/Panel tactil capacitivo

Resolucion

800×480 or 1024×600 Digital LCD

LAN

Ethernet 100M

Soporte inalambrico

IR Receptor/Zigbee Opcional

Sensor

Interfase de sensor magentico/deteccion de
movimiento/emergencia/gas, etc

Sensor de imagen

1.5M Pixel incorpora C-MOS camara(Opt.)

Dimensiones(mm)

CKN-1020SK: 361(W)×238(H)×22(65)(D)
CKN-700SK: 257(W)×183(H)×22(65)(D)

Instalacion de orificio

1020SK: 270(W)×164(H)
700SK: 209(W)×133(H)

Tamaño de caja(mm)

400(W)×236(H)×100(D)
Instalacion
CAUTIONS FOR INSTALLATION
1. Un rango efectivo de L2 S / W para Pared de Muro es 100m.
2. Establecer un número de edificio de apartamentos no solaparse con el numero de casas
3. Consulte la proporcion del modelo al hacer una exploración por su cuenta.
4. Sea consciente de dañar la Línea Junta (el poder excesivo conduce a mal funcionamiento).
5. Un poder separado requiere un suministro si hay más de dos sensores magnéticos y móviles aplicados.
6. Altura apropiada es 1450 mm desde el centro de la pantalla LCD supervisar al suelo.
7. Utilice líneas dedicadas.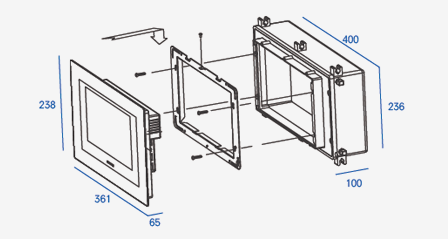 Diagrama

Cableado
CAUTIONS FOR INSTALLATION
Tenga cuidado con la polaridad
Energize despues de instalar.
Use lineas dedicadas.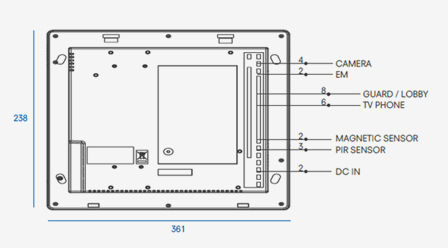 Accesorios
ACCESSORY
CONTENTS
QUANTITY(EA)
Conectores
CONN. 2P×300mm
CONN. 3P(3.96)×250mm
CONN. 3P×300mm
CONN. 4P×300mm
CONN. 5P×300mm
CONN. 8P×300mm
2
1
1
1
2
1
Barcket de pared y tornillos de fijacion
FHM 4×50 ZnY
4
Tornillos de fijacion
PHM 3×6 ZnY
1